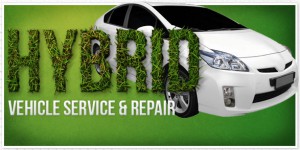 San Clemente Auto Center is a Hybrid Specialist!
If you are involved in an accident, our technicians know how to bring your car back to its pre-accident condition. Damage to systems in an accident are a particular problem. At San Clemente Auto center, we regularly repair hybrid vehicles that have been involved in all kinds of traffic accidents. The Prius has three water pumps, any of which can be damaged. If the coolant system is not repaired correctly, the engine can be compromised. We are specialists, and know the telltale signs to look for.
If something goes wrong with a hybrid system after a collision, you could be shelling out big bucks. San Clemente Auto Center knows Hybrid vehicle's, working on them regularly. Let us help you make the right decision on your repair and maintenance programs to keep your investment sound.
Routine maintenance costs on a hybrid may be lower than on a regular car. The gas engine shuts down when the car is idling and at other times, such as driving at low speeds when the electric motor takes over. That means there's less wear and tear on the engine.
n smaller hybrids, especially, oil changes are recommended at 5,000 miles (8,046 kilometers) rather than the 3,000 miles (4,828 kilometers) that mechanics recommend for many similar cars. The hybrids' regenerative braking system and the lower heat involved means that brake pads and brakes tend to last much longer.
With most hybrid cars, no special regular maintenance is needed on the hybrid system.
All of our mechanics undergo Hybrid Safety Training. Learn more
Professional and Detailed Hybrid Repair Services
Hybrid vehicles combine an electric motor with a gas-powered engine to produce a modern and efficient mode of transportation. Such efficient vehicles as hybrids— in compact, sedan, SUV and truck models— require qualified technicians who are specifically trained in the systems and processes of hybrid vehicles.
At San Clemente Auto Center Certified Auto Repair, our technicians are hybrid certified. They represent "The Hybrid Shop" as a trained technicians of San Clemente CA. with the skills and knowledge to rebuild your hybrid batteries.
You drive a hybrid around San Clemente CA. to take advantage of this unmatched efficiency, and most notably the fuel economy. When the time comes for general service or repairs on your hybrid, pay us a visit. You can rest easy knowing your ride will remain comfortable and your children will stay safe.
You should also come to us as soon as you notice any unusual behavior with your hybrid. With your fast action and our quality repairs, your hybrid is bound to last for many years.
Hybrid Repairs You Can Trust
Hybrid vehicles are unique, yet their basic needs match those of any car. This is when the team at San Clemente Auto Center Certified Auto Repair is ready to get to work for you. We do basic work on hybrid vehicles, including brakes, belts, oil changes, suspension, steering, tires, cooling systems and A/C systems. Altogether, we are here to ensure all your hybrid repairs are done correctly.
We are also the only hybrid shop in San Clemente with the capability to rebuild, rebalance and work on your complete hybrid battery pack. The dealership or other shops will tell you the hybrid battery needs to be replaced. Our staff will rebuild your battery and place it back into service, usually for half the price of replacement.
Our ASE-Certified Master Technicians oversee every hybrid repair procedure. With our cutting-edge diagnostic and repair equipment, plus our continuous training and more than 125 years of combined experience, we'll service your hybrid efficiently on every visit.
Why Get Hybrid Repair Services from San Clemente Auto Center Certified Auto Repair
One of the two Independent AAA-Approved Facility San Clemente CA
Family-owned and operated shop since 1993
ASE-Certified Technicians
More than 125 years of combined staff experience
Specializing in domestic vehicles and Asian imports
Dealership-quality repairs at affordable prices
2-year/24,000-mile warranty on MOST auto repairs
Many Certifications waiting to serve you.
When you need hybrid repairs in San Clemente CA, trust the team with the knowledge to properly work on hybrid vehicles. Contact San Clemente Auto Center Certified Auto Repair today.