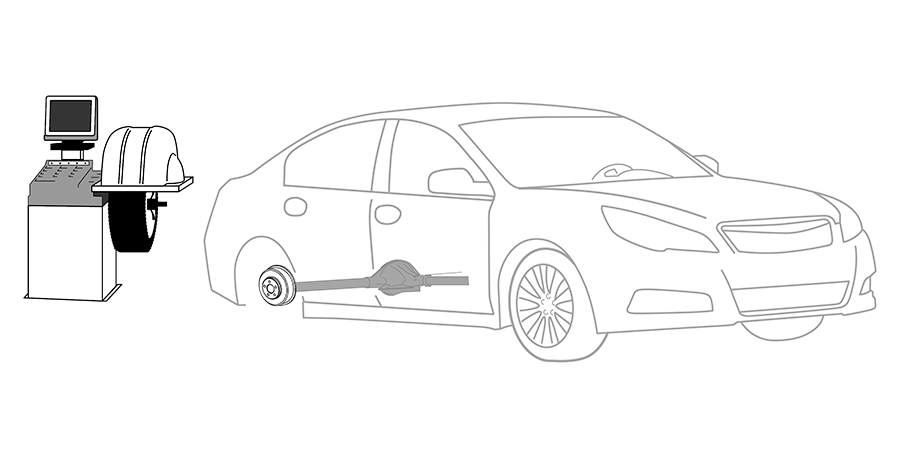 Tires are the connection between your vehicle and the surface of the road. A critical part of your vehicle's suspension system, tires are responsible for transmitting the forces of driving, steering, and braking to the surface of the road. Although tires are easily maintained, they are often overlooked. The air inside your tires and the design of the tire influence vehicle performance, tire tread life, and ride comfort. Tire maintenance is vital for getting the most out of your tires by maximizing mileage and tread wear. Our staff will help you understand the basics of tire care and maintenance, like when you should seek tire rotation, balance, and alignment. Our staff will also help you understand tire sidewall markings, teach you the best time to purchase a new set of tires, and show you how to choose the right set of tires for your vehicle.
Computerized Wheel Balancing
Professionals use computerized wheel balancers to pinpoint weight differentiation within a tire and wheel assembly. Computerized wheel balancers…
Approx. Time: 15 Minutes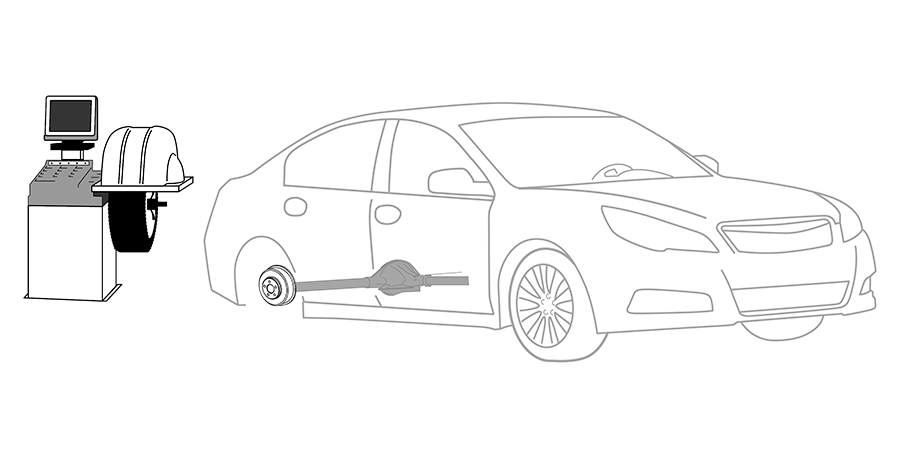 Tire Purchase & Tire Installation
When tires are completely worn or unable to meet a driver's needs, the tire purchasing and installation process usually follows. The specific…
Approx. Time: 15 Minutes
Tire Repair
There are many hazards that can make tires less effective and more of a danger to drivers and passengers. It is not uncommon for…
Approx. Time: Call for estimate
Tire Rotation
Our tire rotation service involves changing the position of a vehicle's tires in order to reduce massive tread differentiation between…
Approx. Time: 15 Minutes
Discount Wheel & Tire's Wheel Buying Guide
Alloy Wheels
are light wheels with improved performance characteristics. These light wheels increase cornering and steering precision, and decrease road feedback for better braking response.
Steel Wheels
are heavier wheels that provide vehicles with a lower center of gravity. Steel wheels are perfect for harsh road conditions in the snow or off-road over rugged terrain, but lack other performance capabilities because of the added weight.
Chrome
is an aesthetically pleasing finish applied to both alloy and steel wheels. Chrome wheels are sought by drivers concerned with cosmetic appearance. While chrome wheels are known for their metallic mirrored shine, durability, and strength, they require regular attention and cleaning to maintain their visual appeal. The right set of wheels depends on vehicle characteristics and desired ride quality. When deciding on the right set of wheels for your car, truck, or SUV, consider the following:
Size:
Various wheel sizes and weights hold different performance characteristics. If you plan on upgrading your current wheel size, be sure to consider the maximum wheel size allowance on your vehicle.
Weight:
Wheel weight impacts vehicle performance. Heavier wheels increase braking distance and reduce handling, while lighter wheels will improve maneuverability and braking performance.
Terrain:
Where do you drive most often? Wheels should be selected based on their primary function.